My Webcam
Currently my original web-cam has been liberated by daughter number two! So there is not much showing here until it has been replaced.
This is (normally) a view from either over the front garden or round the computer room. This image refreshes every 30 seconds when the cam is running, which is only some of the time. At night it may be too dark to see much because the cam doesn't handle low light too well. The webcam software I use is ConquerCam. Download it here.
Zoneminder
I am currently testing Zoneminder on a Linux web-server. Zoneminder is a Linux video camera security and surveillance solution that can monitor and control multiple web-cams including networked IP webcams.
I use this to capture inputs from several sources. For example, live feeds from the following:
a Labtec USB webcam
a Yht Vimicro ZC301P USB webcam
a feed from a Genius IPCam Secure300R network web-cam
a still image from a Linksys WVC54G network web-cam
The two USB web-cams feed directly into Zoneminder through /dev/video0 and /dev/video1.
The Genius IPCam Secure300R web-cam is accessed directly by IP address over the LAN.
In the case of Linksys WVC54G IP web-cam a still image is captured from the web-cam and copied to a file-system location and this allows Zoneminder to pick up the image. This is still at this stage experimental; the image is being successfully captured and copied to the required location and Zoneminder is dynamically picking up the image correctly. The aim is to speed up image generation. An example of the captured image is shown below. This is only refreshed here if the user refreshes the browser view.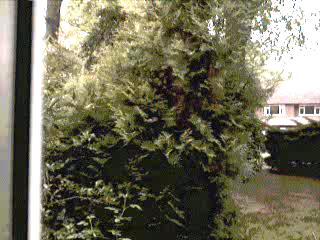 Configuration details for capturing the image from the Linksys WVC54G IP Web-camera, and setting up Zoneminder monitoring are described in my local configuration pages for Linksys IP image capture and Zoneminder respectively.
An example of the Zoneminder console screen and a montage of monitor screens are shown below. The image labelled Labtec is the live feed from a USB web-cam, the image labelled WVC54GF1 is an image retrieved by the method described above from a Linksys WVC54G IP Web-camera and the third and final image labelled FileMonitor is a static (file) image used for test purposes only.
Download Zoneminder from here.
My Zoneminder console is available here.